In 1994 I started work on a series of drawings which I now call the "Essences and Particularities Series".

If there is a mantra in the Bahá'í community, then it is ´unity in diversity´.

These drawings are an exploration of the diversity, the ´differend´so to speak, but unlike Lyotard who ended up trusting no stories, I found that in focussing on the particular (what was exceptional for me), I discovered more stories. It seemed that by listening more and not worrying about whether something made sense or not, I discovered new words / worlds.

This is a series or theme that I continue to explore in various media.




In 1994 I made a 6 minute video, where these mythopoeic drawings constantly metamorphasize while a choir sing in medieval style.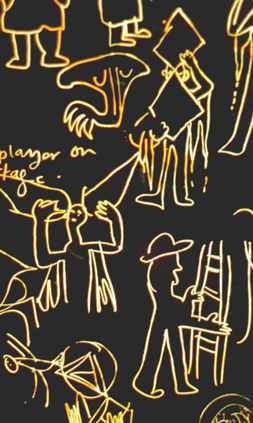 We tend to think of universals as being what connects us to God or to our soul.

"When thou doest contemlate the innermost essence of things and the individuality of each, thou wilt behold the signs of they Lord's mercy..."

´Abdu´l-Bahá     (Sel. from the Writings of ´Abdu´l-Bahá, p. 41)

These drawings made and still being made in this series connect within the same 'expanding' artwork. They relate directly to my identity as a Bahá'í.

Sometimes I use a title to give an accent on the spiritual, other times on the political, such as in the works titled: Containers, Sleep or Martyrdom.