My investigations about self and object, subjectivity and objectivity, have led me to work in varying media, and often a combination of various media.

The Subject has the text:

The subject
accidently encounters
the original

silkscreened onto a mirror which fits inside a white shoe.

The shoe rests on a piece of transparent perspex. The surface of the perspex is rippled and holds the shoe at an angle so that as the viewer looks down to read the text, they see their own face in the mirror.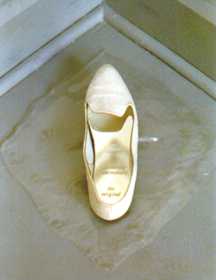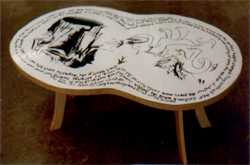 The text was really about the subjectivity of storytelling, and that's why I wrote a story around the edge of this art object. The text mixed my personal fears, struggles and realizations with the event of the fall of the Berlin wall, as well as in overcoming the obstacles of expressing myself 'objectively'!
What I hadn't anticipated was that people would walk around the table to read the text.
It had a dizzying effect!


Bijzetafel (Side table or coffee table), is a silkscreen print under glass as part of a purpose-made table. The print shows two laughing women, with one holding out her hand towards two dragon-dogs on leads. Around the edge, the text reads:

"don't worry", she laughed, "he won't bite and if he does it won't be nearly as painful as the thought of it." "What a joke", I thought being frightened when it was obvious that even the machinery was rusting let alone the question of whether the parts were connected or not. But all the same it's strange holding out your palm upwards in a gesture that the old fools couldn't see. No one knew how long ago they had lost their sight. For decades no one had noticed that the gestures hadn't changed. They continued their customs while the garden diversified and multiplied. Then one day, the walls fell down and we could see. "It's funny how things have turned out," she grinned.