However the world which dominates in all the videos is that of Tangaroa (the seas and rivers). Because water doesn't stand still, we are carried along, by the flow, the sounds, and by a narrative that is sometimes personal and traumatic - at other times juxtaposed against theoretical text.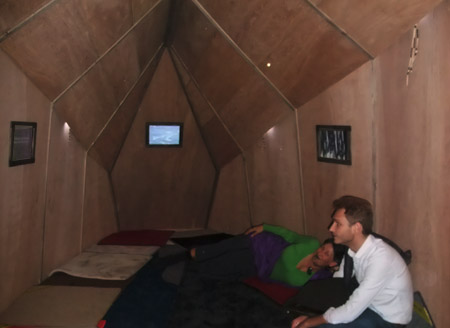 There multiple viewpoints (windows or eye-holes) not only to reflect the subjectivity of memory in relation to childhood, my own mixed background as a foreigner living in the Netherlands (I moved here at the age of 29), as an artist who was raised in a working-class background, and as a mother myself, but also so viewers must choose a viewpoint. Each of the videos provides a differing perspective at any moment. All the videos have different lengths and loop seamlessly, so that the viewer can never step into the same experience twice.

In the spaces between the videos, are suspended piupiu (Parts from a flax skirt. A gift from a kapa haka group via Jerome Kavanagh / Ngā iwi o Ngāti Hinemanu/Ngāti Paki).

These 'hangings' serve as points for reflection, like breathing spaces between the stories in the videos.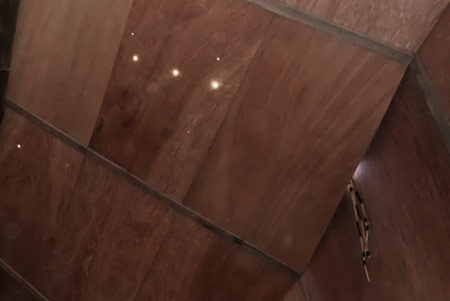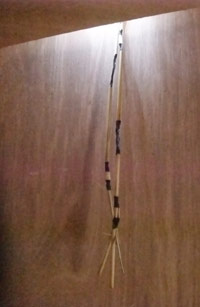 These 'relocated' hangings refer to tukutuku panels in a wharenui
(Māori ancestoral/meeting house).

These are fibre panels traditionally made by women, and are placed alternately between the carved panels or posts, traditionally made by men.


Above, the wooden beams in this Kāinga (Home) symbollize the spine and ribs of the ancestor just as they do in a Māori wharenui. And of course there's the reference to the story of Jonah and the whale, where visitors are inside, hearing stories from the inside (the child's world).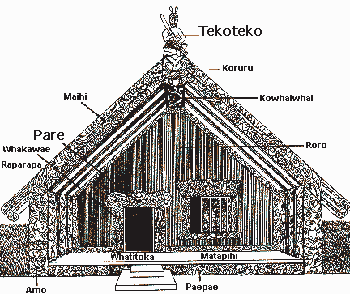 There are more similarities to a wharenui, as you can see above. Instead of a carved tekoteko (symbollically the head of the ancestor) I've placed a piece of old wood. Tane the guardian of the forests and humans, is often symbollized by a tree. We chose to use wood fashioned and discarded by others - collected by Sonja in the 'forests' of Dutch cities for the front of this Kāinga (Home).


The seats and furniture made by Leiden artist, Frida van der Poel, are not only there so people can take off their shoes more easily, but also can be a place for socializing while still outside the 'home within.'

We chose a used and sanded wooden panel for the pare above the doorway, which would traditionally be carved with images relating to birth. We chose not to use any carving or painting in this 'home', so that the wood shows directly its own history - that it was cut and sanded, before it was collected and then placed here.

As you pass under the pare and step onto the carpet you pass from one world to another, and have made a preparation for this 'migration' by removing your shoes.