"Waka Huia" (Feather Boat) made with Sen McGlinn is a small suspended translucent vessel bearing a cargo of lightness. A cargo of the spirit. A "wakahuia" is a container for holding valuables, but this also means "feather boat" in New Zealand Maori. Our 'vessel' formed from the scan of a feather of the extinct New Zealand bird, the Huia (Heterralocha acutirostris) is combined with my drawings.
In the video, "Heart of the Land" (2009) the journey is the location - a constant flow or relocation. I grew up in a rural farming area in New Zealand, close to the river featured in this video. The slow flow of cross-currents relates to my own upbringing and crossing between worlds.


This video, one of five inside a 'canoe-home' that the visitor enters, is symbolically the "poutokomanawa" (referring to the heart pole of a Māori ancestral house). As they remove their shoes, feel the carpet underfoot, and find themselves surrounded in a darkened space of videos, sounds and illuminated sculptural objects, visitors should sense an active spirit
- a sense of a 'home' within.



He Kāinga a roto - He kāinga nekeneke.
Home within - Home on the move      
Ehara taku kāinga i te kāinga tu tonu.  
He kāinga nekeneke.

My home is not a home that stands still.  
It is a home that moves.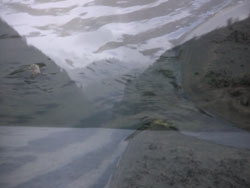 This phrase references the Maori proverb:
"Ehara taku maunga i te maunga nekeneke. He maunga tu tonu."
My mountain is not a mountain that moves around.
It is a mountain that stands still.
Here I'm saying that my identity, -my home- is on the move.

When I first visited the Netherlands in 1986, it felt as if everyone walked on concrete. I couldn't feel the land. One reason visitors will be asked to leave their shoes outside is so your feet can feel the textures of the "papa" (which means "ground" in New Zealand Māori and relates to the space on a Māori meeting ground where people have their first encounter with a tribal 'home' spiritually as well as physically. This word is also an affectionate term for mother earth).
Here my "papa" is relocated to inside a physical structure. Removing your shoes is also a small ritual visitors undergo, of removing an outer layer, before entering this 'home within' (kāinga a roto).

The work is seen through multiple viewpoints (windows or eye-holes), not only to reflect my own background as a child of a Dutch father and a Scottish-Irish New Zealand mother, as a foreigner living in the Netherlands (I moved here at the age of 29), as an artist who was raised in a working-class background, and as a mother myself, but also so viewers must choose where they stand. Each of the videos provides a differing perspective at any moment. In the spaces between the videos, shadows are projected from suspended "harakeke" (flax) container-like objects and there are localized sounds.
These serve as points for reflection, like breathing spaces between the stories in the videos. In Maori culture, baskets are utilitarian items and symbols for knowledge. Making a basket involves going into nature and making the correct selections.


'Unwant' is also about what we 'want,' about the choices we make as artists or as individuals. These videos make personal connections to my mixed pakeha (white and 'foreign white' New Zealand) rural working-class upbringing, the influences of Maori and Bahai spirituality, and chosen and unchosen consequences in relation to migration. Migration is often discussed in relation to politics, war or economics. In choosing to take a biographical approach, I am focusing on issues related to childhood, family, witnessing, and trauma in relation to the unchosen, one's UNwanted land, one's whakapapa (family history). I take land as a metaphor for the soul or self, which is why I have chosen so much water imagery. Being fluid, water flows in all directions, it cannot migrate because it is always on the move, but it can facilitate migration or a change (of heart). And a boat can go with the flow or against it. A boat as a metaphor for 'home' or 'want' foregrounds process.

From another perspective 'The unwanted land' is a poignant title for an examination of my childhood, because my memories are dominated by unwanted ones of pain, rejection, self-hate, and loneliness. My father was abusive and my mother coped with the trauma by switching off. I have made a number of conscious decisions to live a life not burdened by the 'unwanted.' While to some this sounds harsh, if I had not made these migrations of the heart, I would not have been able to function as an artist, perhaps not as a human being.
Initially my migration from the family home was 'unwanted' in the sense that I left, to find a job and place to live so I could continue high school. But my next major migration a few years later was a 'want.' At 19 years of age I migrated from a working class environment into the the unknown 'foreign' world of study. Even though I now live on the other side of the globe, this is still the biggest migration I've made in my life. I left the security of a job and training to go to art school. It was also a literal migration -I hitch-hiked 3000 km - but the real migration was a change of culture (of heart or mind).

The 'unwanted land' of my childhood that has always been an intrinsic part of my identity, an identity later shaped through a succession of re-locations. Because the abuses of my childhood were dramatic, I've tended to avoid dealing with them in my art, afraid they would overshadow the 'wanted land' - ideas and multi-layered stories - the magic of an artwork.

From a material perspective, the Unwanted Land exhibition is like a city, in which the scaffolding functions as a geological feature which connects all the artists. It is like a mountain ridge or a river. Here my canoe-home is positioned underneath like a shelter within a shelter, however its function is not to protect but to facilitate revelation. When a Māori person names their canoe in a mihi (introduction), they are also revealing a whole network of relationships (or positionings).
The 'position' of my work here is like a place for the spirit.

The home within then, is not so much about finding a resting place, or a 'home' to be still in, but a place for kindling/enacting a sense of the spirited. It is intended as a home that is a vessel for migration, for metaphysical motion - a home on the move.