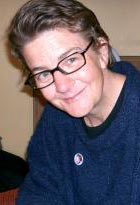 I am a visual artist who started making websites in 1998 (my first website is -still- in use) and I was employed by TeleacNOT (Dutch Educational Broadcasting, a combination of TELEAC (adult education) and SCHOOLTV) as a multimedia designer between 1999-2007.

My work evolved from HTML in notepad and manipulating images or drawing or designing from scratch. From about 2001 onwards, I focussed on games in flash for schooltv. These were usually something simple completed on a budget of about 500 euros. From about 2007 onwards I also designed for CMS sites often working solely in css. Assignments ranged from thinking about a solution within the budget provided and proceeding from that to pure CSS work for a given design.

I left in 2007 to develop my freelance design business which is what I do now, in between various art or new media related assignments.

I also give advice to help you to decide what is the best solution for your web-presence. You might prefer a custom-made wordpress site that you then control yourself or a website which links to various facilities. I charge 60 euros an hour for this advice and generally one or two hours is enough. I give the advice suited best for your own needs which means that you might go elsewhere for your website or might make this yourself.
If you wish to contact me, scroll to the top of this page to view my email address in the title above.