and installed indoors.
since 2002.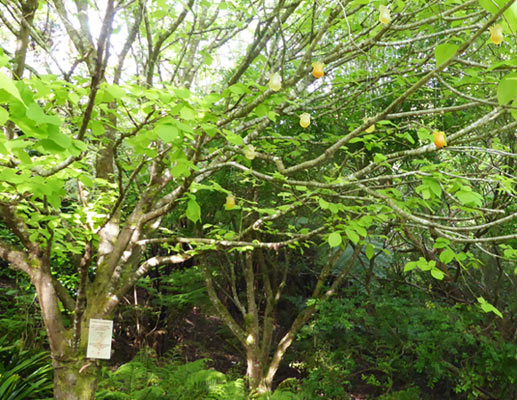 9 tulips installed in the
Kaiapara Coast Sculpture Gardens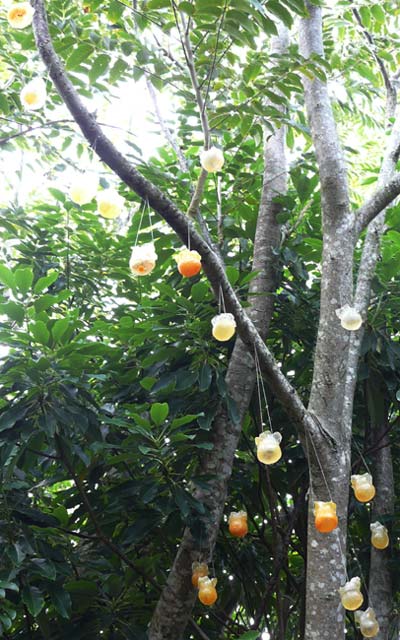 19 tulips installed at Wharepuke Sculpture Park in 2015-16.
Cultural symbols always have a history and are always in flux. "Tulips from Istanbul" was made in response to the political debate on what is a "Dutch" national culture.
The tulip began in China, was cultivated in Turkey, and migrated into Europe out of an Islamic society. In the Netherlands it became a cultural icon and still is today. Likewise with the colour orange: the name originates in France but was imported into the Netherlands via Germany and is the name of the Dutch Royal family, the House of Orange. And the colour orange has become a national icon associated with the Netherlands. These orange tulips are a reminder that there is a give and take involved with any cultural interaction. I cast these tulip forms in a material that looks fragile and is transluscent and to suspend them to emphasize the fluidity of the frames we put around things. Two texts are exhibited with this work:

´It is not a tale invented but a confirmation of what went on before it...´
The Quran

The Dutch House of Orange has reigned since 1572.
The tulip from Turkey gained popularity in West Europe in the early 1600s.


The text from the Qu'ran is a reminder that nothing is entirely original and that new stories are always influenced by our history and cultural backgrounds.
Each cast resin tulip individually for sale ($NZ 220) is intended to be removed when it is sold, so that over time the locations for these tulips spread to other parts and in turn the composition remaining in exhibition changes. Each buyer will be asked for their location which will be added to this webpage: www.sonjavank.com/tulips2018.htm and in turn they will be sent a PDF with an edition number and a whakapapa (history) for this collection of 9 tulips.
At the 1982 Documenta in Germany, Joseph Beuys sold or planted 7000 'balsalt stone and oak tree sapling' combinations. Today his trees and stones can be
found in many locations
. Inspired by this art work, located in multiple places (and contexts), each of the "Tulips from Istanbul" tulips will have its migration recorded below on this page.
Initially I made 50 tulips in 1997 for an exhibition in Villach, Austria and have exhibited many of these tulips around
Europe
. While each tulip is cast (from the same mould), each is also unique - either in the finishing, or in the way the dye was applied, or by a history of cracks, knocks, fissures or repairs.

The 9 tulips at the 2018/19 Kaipara Coast Gardens Sculpture Trail