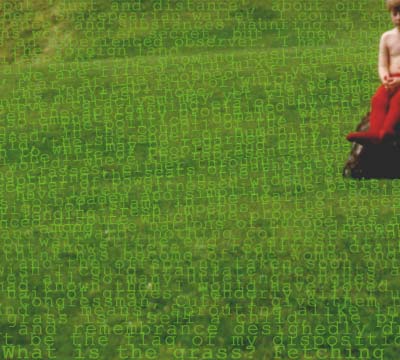 The text at the bottom is from Walt Whitman's poem Leaves of Grass which begins with the phrase: "A child said What is the grass? Fetching it to me with full hands; How could I answer... "
See larger view (71 kb) where you can read the texts in the grass


The green is filled with a pattern of texts by authors from countries that have been colonialized by the English with one text by a Persian author who came to study in Oxford.

The bottom text is from Walt Whitman's Leaves of Grass, in which he seeks to find an American voice expansive enough for a continent. Another text is from Janet Frame sho speaks of her dislocation as a New Zealand writer, between English literary influences and the uncertain beginnings of a New Zealand voice.